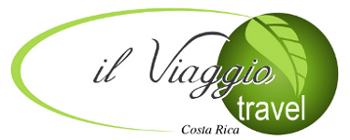 Escazú, San José, Costa Rica
Telephone: +(506) 2289-8225
E-mail:
contact@ilviaggiocr.com
Skype: emilio_ilviaggio
Follow us:


Design your trip

About us
Testimonials from our clients!
Full name: HONEYMOON Stamatis and Elaina
Lives in: New York,USA
Visited: For our honeymoon in Dec 2014 - Jan 2015 we visited TORTUGUERO - PUERTO VIEJO - BOCAS DEL TORO - SARAPIQUI - ARENAL – GUANACASTE
Testimonial:
Ahh I can't believe we've been home for weeks already. We've been nonstop with weddings and birthdays and work stuff - we are so ready for another vacation :) We have such great things to share: - Every driver was helpful, on time, and super informative. We learned soooo much on this trip. We were huge nerds and wanted to learn everything. - We absolutely loved the Grano de Oro hotel room, accommodations, and people. Excellent. - We loved Tortuguero, Manatus was a beautiful hotel with the best staff of our trip, and great food. The canals tour was one of our favorite parts of the whole trip. - Puerto Viejo was also fun. Le Chameleon was beautiful and comfortable. the Christmas Eve dinner wasn't mandatory, which was good cause it was a little pricey for no drinks included. We ended up going to THE BEST restaurant in town and had a great dinner :) we loved the town. The Cahuita park tour was snorkeling and hiking. The hike was beautiful, hot and long, but definitely beautiful. -Bocas was a relaxing few days, mostly spent by the pool. Everything with our room was taken care of as you know. We were so tired by that part of the trip with tours and long drives we didn't really leave the hotel, only for dinner in town, which was really nice. Shocking what a difference the "welcomeness" you feel leaving Costa Rica and going to Panama. Such a different culture, love the Costa Ricans :) - Sarapiqui was a small relaxing stop. But was great for a night to rest before our trip continued - We absolutely loved la Fortuna! Beautiful area, wonderful hotel (Royal Corin), great staff and tours. Loved it. We had a great day at the volcano hiking and zip lining. We didn't know that the Sky Trek package we got included a 4 hour hike so we tried canceling our hike that was booked for the next day (it would have been the same hike) so we ended up just cancelling anyway without getting our money back. I couldn't feel my legs after the hike at sky trek :/ we loved it though! So instead we did a chocolate tour and had a great time. learned so much and ate some fresh cocoa :) - Guanacaste was our favorite part. Would have loved to stay there a few extra days, but it was probably the most expensive stop. The hotel was gorgeous and we had such a great time visiting the beaches and taking our private boat tour (that was unbelievable). Nancy it was unbelievable and we loved it. Stamati really wants to go down and open a Greek restaurant and live there. My parents are scared that we're serious (we might be), maybe one day. Sorry there are spelling errors and this email is a mess. I wanted to write you a neat and careful message but I haven't been able to. Thank you so much! Say hi to Emilio from us!
Back to list
ABOUT IL VIAGGIO TRAVEL: