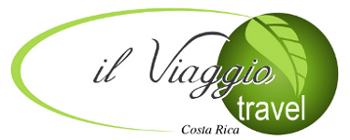 Escazú, San José, Costa Rica
Telephone: +(506) 2289-8225
E-mail:
contact@ilviaggiocr.com
Skype: emilio_ilviaggio
Follow us:


Design your trip

About us
Testimonials from our clients!
At Il Viaggio Travel Costa Rica we are very proud of the quality of the services we offer. In this section you can read about the experiences other of our clients had when they visited our country.

Who: Familia Kammer from N/A, USA
Visited: Cloud forest, Arenal volcano and Pacific coast.
And had this to say: "We just returned from our trip to beautiful Costa Rica. We have a wonderful time. My wife and I took our two children, ages 6 and 9 and my mother-in-law along. The entire trip was amazing. Il Viaggio did a wonderful job from pick up at the airport..." read complete testimonial


Who: Stefano Cosari from Madrid, España
Visited: Tortuguero, Sarapiqui, arenal, rio celeste, monte verde, Manuel Antonio, Corcovado
And had this to say: "Ya han pasado algunos meses pero el recuerdo de Costa Rica sigue muy presente, ha sido todo estupendo, la organización inmejorable, ha ido todo muy bien...y personalmente lo que me ha mas gustado ha sido Corcovado en Bahia Drake, si alguien está p..." read complete testimonial


Who: Degant cerviño from Guipuzcoa, España
Visited: Hemos estado en tortugeuro, arenal, monteverde, dominical
And had this to say: "Nuestra experiencia no ha podido ser más satisfactoria, pese al mi discapacidad ( me muevo en silla de ruedas) he tenido una gran atención pudiendo realizar actividades que ni pensaba que podía hacer y todo gracias con las personas que trabajan y ..." read complete testimonial


Who: Pervizaj Family from NYC, USA
Visited: Monteverde - Arenal - Guanacaste Beach
And had this to say: "Dear IL VIAGGIO TRAVEL My clients Pervizaj family sent me a great comment I want to share: Hi Nancy, I tried to call you a couple of times but was unlucky catching up with you. Wanted to thank you for the wonderful trip, it was simply ..." read complete testimonial


Who: Giorgio Bruni & Maria Carla from Italia, Italia
Visited: Ver fotos aquí
And had this to say: "Queremos darle las gracias por el maravilloso recorrido que ha organizado. Tuvimos un gran momento tanto en los hoteles como en los traslados. Siempre puntuales y eficientes. Un mes en su hermoso país nos ha permitido ver a tantos animales y..." read complete testimonial


Who: HONEYMOON Stamatis and Elaina from New York, USA
Visited: For our honeymoon in Dec 2014 - Jan 2015 we visited TORTUGUERO - PUERTO VIEJO - BOCAS DEL TORO - SARAPIQUI - ARENAL – GUANACASTE
And had this to say: "Ahh I can't believe we've been home for weeks already. We've been nonstop with weddings and birthdays and work stuff - we are so ready for another vacation :) We have such great things to share: - Every driver was helpful, on time, and super infor..." read complete testimonial


Who: Ianna Brugal from FL, United States
Visited: San Jose, Alahuela, Heredia, Fortuna,and everything on the way.
And had this to say: "My experience in Costa Rica was amazing!I really need to thank Stephanie and all the staff at il Viaggio for a wonderful time in Costa Rica. All the activities were so well coordinated and everything ran so smoothly without any inconveniences. All..." read complete testimonial


Who: Estibaliz Aguirre from Madrid, Spain
Visited: July 2011 - Honeymoon Tortuguero - cahuita - Arenal - Monteverde - Guanacaste - Manuel Antonio
And had this to say: "Hola Emilio! En cuanto al viaje, todo ha estado perfecto, has superado nuestras espectativas tanto en el trato como en el servicio. En particular, el hotel La Posada nos pareció espectacular y la piscina siempre a buena temperatura y con opción de..." read complete testimonial


Who: Sigrid Krings from Hannover, Germany
Visited: July 2011 Sarapiqui - Tortuguero - Arenal
And had this to say: "Liebe Frau Engels, wir sind aus unserem Urlaub heil, gesund und munter und völlig begeistert wieder zu Hause angekommen. Wie gerne wären wir noch länger in diesem wunderschönen Land geblieben. Die Hotels, die Sie für uns ausgesucht hatten, waren a..." read complete testimonial


Who: Kara Romanow from Massachusetts, USA
Visited: Fortuna, Guanacaste, San Jose, and everywhere in between
And had this to say: "Hi Stephanie – I wanted to thank you for helping make our trip to Costa Rica one of the most amazing vacations EVER!!!!! Everything was perfect – the hotels, the weather (I didn't know you could arrange that!), the activities – just superb. You we..." read complete testimonial


Who: Rosanna castro from Florida, United States
Visited: San Jose, Turrialba, Manuel Antonio
And had this to say: "Thanks to iL Villagio, I had an AMAZING honeymoon! They figured out exactly what we wanted, and every detail was just absolutely perfect. We explored the adventurous side (zip lining, canyoning, ATV rides, White Water Rafting) and the romantic sid..." read complete testimonial


Who: Fam Pirttila from Tullinge, Sweden
Visited: Puerto Viejo, Monteverde, Guanacaste
And had this to say: "We didn't know what to expect when arriving to Costa Rica for the first time. However, thanks to the warm welcoming by Stephanie and our driver Francisco we immediately felt that this was going to be a hit. The trip from Puerto Viejo to Guanacaste..." read complete testimonial


Who: Brad Jackson from Phoenix, USA
Visited: Papagayo - Congo Canopy - Borinquen in Rincon de la Vieja
And had this to say: "Stephanie, I just wanted to let you know how pleased we were the level of service and quality of people you made available to us. Our guide Odir was extremely knowledgeable and informative about the locations, economics, history, culture, and othe..." read complete testimonial


Who: Ewa and Andrzej Lange from Varsovia, Poland
Visited: Poas Volcano - Tortuguero - Jaco - Carara - Monteverde - Arenal - Rincon de la Vieja - Langosta Beach
And had this to say: "Dear Mrs Stephanie Sheehy, we want to thank you and all your staff, who were involved in organizing our stay in Costa Rica. Our vacation was really very pleasant, the trips were exciting and impressive, and we appreciate your efforts to make every..." read complete testimonial


Who: Kelly Michelle Gilliom from TN, USA
Visited: Tortuguero, Sarapiqui, and La Fortuna
And had this to say: "Stephanie was GREAT! I was in Costa Rica for over a month on a study abroad trip. A month in the city was hardly as exciting as I had expected. I met with Stephanie and I told her I wanted to really experience what the country had to offer. I was ..." read complete testimonial


Who: Sara Espinosa (McKinley Spanish Club, Canton, Ohio) from Ohio, United States
Visited: San Jose, Sarapiqui, La Fortuna, Monteverde, Isla Tortuga, Jaco Beach, Manuel Antonio, y de regreso a San Jose, Parque Nacional Volcan Poas.
And had this to say: "Mi amiga y colega Eugenia Gamboa me recomendo la agencia de viajes Il Viaggio para recorrer Costa Rica en un interesante tour. Desde el primer dia que me contacte con Emilio Zuniga, senti que estaba tratando con una persona muy amable y profesiona..." read complete testimonial


Who: Tomi Youngblood from Charleston, SC, USA
Visited: San Jose, Escazu, Atenas, Doka Coffee Plantation
And had this to say: "Our trip to Costa Rica was wonderful with the help of il Viaggio. The staff was so helpful, always available, and went the extra mile for us on several occasions! We were in Costa Rica on our daughter's birthday, and Stephanie dropped by to bring ..." read complete testimonial


Who: Brenda Heisroth from Ohio, USA
Visited: Central Valley Arenal Monteverde Atenas
And had this to say: "When we return to Costa Rica, we will certainly ask advice from Stephanie! She provided us with excellent transportation and a knowledgeable guide. If you go ask for guide-driver, Alejandro. His English is excellent, and he knows a lot about flora..." read complete testimonial


Who: MaryAnn and Earl Walborg from Texas, U.S.A.
Visited: Jaco, Carara National Park, the Zamora Estate, Savegre Lodge at San Gerardo de Dota, and Pachira Lodge at Tortuguero
And had this to say: "Our thanks go to you, Stephanie, and Il Viaggio Travel for making our recent visit to Costa Rica a most memorable event! Because of your attention to detail ahead of time, our trip went very smoothly. Your choice of accommodations and guides was e..." read complete testimonial


Who: John and Jean Swindells from Kentucky, USA
Visited: Pacific Coast: Hotel Docelunas at Jaco Talamanca Mts: Savegre Lodge at San Gerardo de Dota Caribbean Coast: Pacira Lodge at Tortuguero
And had this to say: "Using an agency in Costa Rica as opposed to one based in the US turned out to be extremely positive. Il Viaggio answers emails very promptly, goes out of their way to build an itinerary that meets your needs and budget. Guide and driver supplied b..." read complete testimonial


Who: MARIA JOSE HERRAEZ from MADRID, Spain
Visited: TORTUGUERO, VOLCAN ARENAL, MONTEVERDE, PLAYA HERRADURA, MANUEL ANTONIO, ISLA TORTUGA Y SAN JOSE
And had this to say: "Nuestro más sincero agradecimiento para Stephanie por lo bien que nos programó el viaje de nuestras Bodas de Plata, así como por las atenciones que nos dispensó durante el mismo. No podemos olvidarnos de Sterling y Alejandro que nos hicieron franc..." read complete testimonial


Who: Stefanie Schulz from Alberta, Canada
Visited: Atenas, Alajuela, Arenal, Manuel Antonio
And had this to say: "Stephanie and Emilio were absolutely amazing. Their follow-up and customer service reflects the professionalism. There is no better company to use while travelling Costa Rica." read complete testimonial


Who: Rocío López from Madrid, Spain
Visited: Tortuguero, Arenal, Monteverde y Manuel Antonio
And had this to say: "Hemos viajado a Costa Rica en nuestra Luna de Miel y la verdad es que no podríamos haber escogido un destino mejor. El país es simplemente espectacular, y la gente es maravillosa. Muchísimas gracias a Il Viaggio, especialmente a Stephanie y a Emil..." read complete testimonial


Who: John Cauley from Florida, USA
Visited: Hotel Manoa, in La Fortuna Arenal. The Springs Resort and Spa in Arenal. And Mapache Rental Car
And had this to say: "I have been using Il Viaggio Travel for the past four years. Stephanie and Emilio are the most helpful people I have ever met in this type of business. I just let them know the kind of a trip and locations that i want to visit, and they take it fr..." read complete testimonial


Who: Manny & Angela Ruiz from Miami, FL, USA
Visited: San Jose, Turrialba, La Fortuna, Monteverde, Irazú, Poas, Arenal
And had this to say: ""Traveling with three small children can be a challenge, but Stephanie and William from Il Viaggio ensured that our trip was as enjoyable and stress-free as possible. Stephanie created a tailored itinerary that included activities for the entire f..." read complete testimonial


Who: Angela Connatser from Texas, United States
Visited: Playa Hermosa, Jaco, Quepos, Manuel Antonio, Bahia Ballena, Dominical, Heredia
And had this to say: "My experience in Costa Rica was wonderful. Il Viaggio did a fabulous job putting together a diverse itinerary that allowed us to sample a wide variety of what the country has to offer. Each place that we stayed was unique to the next, yet maintain..." read complete testimonial


Who: Francisco David Martinez from Madrid, Spain
Visited: P.N. Braulio Carrillo P.N. Tortuguero Volcan Arenal Reserva Natural de Monteverde Playa Jaco San Jose Volcan Poas And a lot of more places in between.
And had this to say: "For third consecutive year, Il Viaggio travel has been fully in charge, when organizing my Summer vacations in Costa Rica. The last experience with them has been quite challenging when my 80 years old mother, with some mobility limitations, was pa..." read complete testimonial


Who: Jesús Fernández from Madrid, Spain
Visited: Tortuguero, Arenal, Monteverde, Manuel Antonio, Volcán Poas
And had this to say: "Visitar Costa Rica ha sido una gran experiencia inolvidable y totalment recomendable. La organización del Il Viaggio Travel ha sido perfecta y te hacen sentir como en casa. Me gustaría volver a Costa Rica." read complete testimonial


Who: Jaime Chard from NY, USA
Visited: San Jose, Jaco...
And had this to say: "I had a wonderful time with everyone at IL VIAGGIO TRAVEL. They are true professionals who know how to create a great experience. " read complete testimonial


Who: Sonia Diaz from Florida, USA
Visited: Jaco, Playa Hermosa, Manuel Antonio, Quepos, Bahia Ballena, Dominical, Uvita, Santa Barbara de Heredia
And had this to say: "IlViaggio did a super job of providing an amazing experience for my guests during their stay in COsta Rica. Our guide Luis Diego was amazing and the IlViaggio team was always able to attend to whatever need anyone had. If you want to truly enjoy y..." read complete testimonial


Who: Franz & Sabrina Granacher from ALBERTA, CANADA
Visited: Tortuguero, Tamarindo, Arenal, San Jose, Jaco, Protrero, Playa Flamingo
And had this to say: "From the moment we were met in Costa Rica by Stephanie and Emilio we had 5 star service, the itinerary that was put together for our group was top notch, from accommodations, to tours and meals, the personal service we received left us all saddene..." read complete testimonial


Who: Patricia Schultz from New York, USA
Visited: San Jose, Manuel Antonio, Monteverde, Arenal
And had this to say: "Costa Rica seems like an easy enough country to navigate independently, but what a completely different visit it would have been without the involvement of Il Viaggio and their ace guide Diego. By taking care of every last detail, resolving every ..." read complete testimonial


Who: Esteban Eliaszevich from Capital federal, Argentina
Visited: Volcán poás, docka cafe, mascarada y cimarrón en ciudad colón,cannoying en turrialba, rafting en Río Pacuara, Malpaís-Santa Teresa, La fortuna(volcán Arenal) y caribe desde Cahuita a Punta Cocles
And had this to say: "Recorrí Costa Rica durante abril y mayo de 2009, con la intención de publicar sus atracciones en el suplemento de turismo que edito; Country Herald, periódico de Argentina. Debo decir que la estadía en este país resulto inolvidable por todo lo que..." read complete testimonial


Who: Nigel Aston from Madrid, Spain
Visited: Arenal, Rincon de la Vieja, Tamarindo, Manuel Antonio
And had this to say: "I can say without any hesitation that Il Viaggio's organisation of my family's trip was essentially flawless. You showed great attention to detail and proved the value of using a ground handler, particularly as first time visitors to Costa Rica. W..." read complete testimonial

ABOUT IL VIAGGIO TRAVEL: